It's taken me a while to post this – mainly becuase I am still recovering from the 'Zombie Flu' – aka the hideuos cold and chest infection which is now on week number 4!!
Social Connections II was in a not so sunny Cardiff Wales and my adventure started when I picked Ms Lisa Duke up at Gatwick airport very early the day before the conference.
To cut a long story short,  5 trains, a quick lunch, much social and work related brain storming, a very wet walk in some 'angry rain' and much cussing the googlemaps mobile app, we arrived in Cardiff.
We had a great afternoon / evening on thrusday – finalising a few things at the venue, finishing off the badges and then off out for a meal at a fish resturant in Cardiff centre.
Friday AM we were all go, reception desk to set up, badges to sort, signs etc … the catering appeared at the correct time and so did most of the speakers (Mr Paul Mason from my own company Applicable was coming at lunchtime), and virtually all the attendees appeared when they were supposed to – so all in all a good start.
We had a few minor issues with the streaming sorted out very quickly – and judging from the #soccnx has tag on twitter we had lots of people watching and interested.
All the session slides will be available shortly as well as the video's – please watch the Social Connections site for details.
Highlights for me:
Finally getting to meet mr Louis Richardson – what a top man, he was engaged through the entire day and it will be fantastic to catch up with him again at lotusphere
John Scott and Joe Nicholls presentation on students and social – it was brilliant and I am looking forward to watching that back
Meeting many new people, the social interaction was fantastic – many questions at the end of sessions, good two way diaglog and conversations inbetween sessions, over coffee and lunch and at the after conference dinner.
I would personally like to thank Mark, Gary and the boys from the Salvation Army who did a fantastic job of the videoing again – they are superb. Thanks guys you are amazing 🙂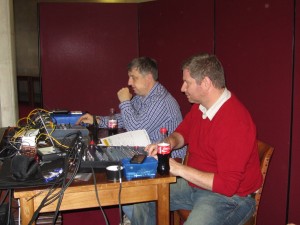 Claire from Cardiff Uni who assisted on the reception desk and generally helped throughout the day – thank you xx
and to Lisa Duke for not only being an awesome friend, pod casting queen and social media "finder-outer", but she was my able bodied assistant for the day as I was completely disabled by the "zombie flu"
So thanks guys from me and Stuart and Simon .. and here is to the next one 🙂