Hello lovely readers …
It is that time of year again when I am preparing to spend a few days at Disneyland Paris running to raise money for my favourite charity .. yes you heard that right RUNNING.  Every year since 2016 my best friend and fellow Disney fan and costumer Sam Edgar have headed to Disneyland Paris in September to take part in the Disneyland Paris Run Weekend.
Feel the Force Day is the world's only Film, TV and Comic Con designed for visually impaired people, disabled people & people with learning difficulties.Founded in 2013 by Si Howard and JJ Lucia-Wright, what started off as a small event in a backroom has grown into one of the biggest fan run Film, TV and Comic Cons in the country. So much so, they have outgrown the Kingsgate Conference Centre in Peterborough and they are moving to the East of England arena which can hold a massive 8,000 people.
Si, JJ and their fantastic team put on an event that EVERYONE can feel comfortable at. FTFD events are accessible for wheelchairs and scooters of all shapes and sizes, aisles are wide to allow guests with walking aids to pass, tables are at a height that chairs and shorter guests can access. There are sensory rooms and touch tables for guests with visual or hearing problems, quiet rooms for guests who are anxious, autistic and have other issues with noise and crowds. Guests are encouraged to touch props and costumes – it is a festival of sound and vision, touch and taste – something for all the senses – even if that means very quiet and one on one experience.
Since 2016 Sam and I (and our amazing team) have ran 203km and raised almost £3,000 for Feel the Force Day.
This year a team of 4 are heading to DLP for run weekend between us we will be running 108km between us.
The adults in the group will be doing the challenges
I am running the 36k challenge which is 3 races : 5k, 10k and half marathon
Sam & Ben are running the 31k challenge which is 2 races: 10k and half marathon
5k is on Friday night at 8pm, 10k is Saturday morning at 7am and the half is on Sunday morning at 7am.  We have to be in the corals an hour before the race so that is a 4:30/5am wake up – lovely 🙂
We do this because we all believe that Feel the Force Day is an amazing cause. It is completely run by volunteers and is funded by donations and the kind sponsorship of local companies.

If you can spare £1, €1, $1 or any amount in any currencey to sponsor us  that would be amazing. You can donate to our run by visiting our Just Giving page or hit the donate button below. If you wish to donate or pledge a donation in person please let us know.
All donations go straight to the 1st Sensory Legion charity who are the team behind Feel The Force Day and every penny really does count.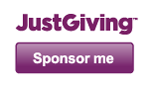 Thank you SO MUCH to our regular supporters who have sponsored us every year – you are amazing people and we love you.
To find out more please see the following links:V