Think is over and man that was full on.
To say this conference was massive doesn't actually do it justice. The show floor and think park took most of the ground floor of the Mandalay Bay conference centre. A wander around the show floor could easily take an hour without stopping by any booths.
It really was an amalgamation of all the major IBM Conferences in one and other than a few hickups at the begining of the week, the IBM Events team actually pulled it off! Yes there were issues as there always is going to be when trying something for the first time but, lessons were learned, feedback (possitive and contsructive critism) was given and will be listened to.
Listening is something IBM hasn't been historically good at from an ICS perspective, but they are listening now and it feels good.
The start of the Think week kicked off on sunday with Champion and Community day – a new thing that the conference team hadn't tried before.
We had a keynote around champions, community and a taste of what the week will be like
Break outs and round tables about champions, user groups, and other interesting subjects
ICS specific sessions for the champions to feed back around

Domino, Sametime and Verse
Watson workspace and the new zoom partnership
Connections 6 and pink, on-prem and cloud

Reception for Champions and Community members to get to know people in other diciplines and brands
LOVED Community day – Really hope that IBM continue it going forward. It was also announced that a new site is being launched: community.ibm.com as a hub for users of IBM software. Its already populated with some brand/software communities with more being added as time goes on. It is fantastic that IBM have recognised the power of the user community.
Monday was presenting day for me and Roberto, and the session went well, positive feedback  and I am already thinking about ways to improve it. Thanks to all that attended and the slides can be downloaded from here. Monday was also chaotic, due to the showfloor and think park not being open. There was a little bit of congestion in the hallways and reports of people not making sessions, this appeared to be becuase of the lack of show floor as there was no where for people to go. Luckily I did make a couple of sessions and they were very well presented and well attended.
The General Session with Ginni Rometty on Tuesday morning was very interesting. Strategy and the overall picture of where IBM are going with Watson, Blockchain and other IBM technologies. It was a very strong message.
| | |
| --- | --- |
| | Chairman's Address – Join IBM Chairman, President and CEO, Ginni Rometty and distinguished guests for a can't miss address bringing together some of the world's top CEOs and business thinkers who are building the future today by putting smart to work. |
Another session that was interesting was Collaboration in the age of disruption with Geoffrey Moore and Bob Schultz. Discussing real world problems and solutions. I really enjoyed this and it did hit home, especially the section on Collaboration culture which sums up our Community. Well worth the watch.
| | |
| --- | --- |
| | Keynote – Join renown author Geoffrey Moore and Bob Schultz, IBM's General Manager of Watson Talent and Collaboration for a lively discussion about the future of work and the powerful role that AI and collaboration technologies provide in improving efficiency, work-flows, and teamwork processes. |
Every Domino session was absolutely overflowing and every one was rediculously enthusiastic.The Domino back to the future session with Andrew Manby and Richard Jefts was amazingly well attended, the session was standing room only and spilled out into the hallway. The same for the Domino on iPad sessions and the What's new / comining in V10 session with Gab and Ram (Slides can be found on Gab's blog here). All excellent sessions with plenty of content and news and REAL working code.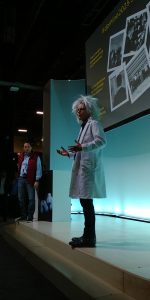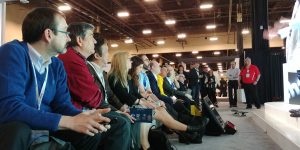 Domino Back to the Future
The community is buzzing with an energy and excitement I have never seen before and I like it. At the ICS day on Wednesday morning the message was reiterated that Connections pink/ next is coming and being worked on, Watson workspace will be THE place for on demand collaboration and now with the added bonus of zoom integration for on demand meetings too – It really will be a game changer. Domino 10 is coming later this year and a new client and sametime will follow but the emphasis is on making the Domino server backend the priority for the first phase of the 10 release.
Marketing is something that has always been a bit of a joke inside the ICS community as there hasn't been any – until now. Yup, marketing … it is happening and there will be campaigns around Domino and ICS. The new team are a bunch of really cool and enthusiastic people.
The ICS brand is a small fish in the big IBM pond, and although the other brands have their own communities none are as passionate and collaborative as ours. The IBM Champions program has really helped in cementing the ICS community as the one other brands are looking to. There is no other community that is so passionate and positive, #ICSProud was the hash tag we were using and I am proud to be a member of this community and to be an IBM Champion for Collaboration. Thank you Libby and Alan and the whole Champion team for looking after us so well.
I am very much looking forward to the other user groups this year (and we have some great things planned for ICON UK) to hear the updates from IBM and HCL. Think 2019 will be in San Fransico 12 – 15 February 2019 save the date as I am sure it will be as big and ambitious as this year has been.