After a not bad nights sleep, I was up at 7 and off to breakfast at 8 with Mick Moignard.
Disney do lay on a good breakfast and I  enjoyed my eggs and bacon followed by mickey mouse head pancakes 🙂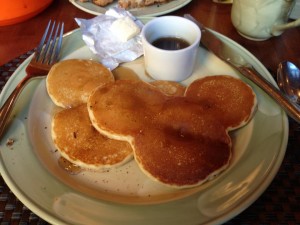 After breakfast I met up with Darren & Stuart and wandered outside to see part of the annual hog ride.
Our community has a few bikers so Paul Mooney, Bill Buchen etc. organise a hig ride on saturday & sunday. Hire a bike and see Orlando.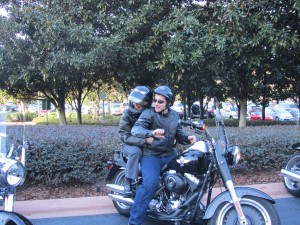 Stu headed off to do his outlet shopping so I grabbed myself a Dazza, we bought a day park ticket each and headed off to Disney Hollywood studios. We caught up with Sam & Mike and the others  and hung out inthe park for a few hours.
Muppets were seen ( darren does a fantastic swedish chef), scary rides were ridden (but not buy me) & star tours ride 3 times was awseome. You will notice in this pic of us outside the Tower of Terror below that I am loaded with coats and bags and jumpers – this is becuase the metal people went on ToT to drop in an elevator and sensible me went to ride star tours (again)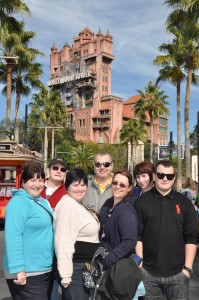 After 4 and a bit hours of fun, Darren and I said good bye to the other guys about 3 and headed back tothe boardwalk via a mickey mouse ice cream.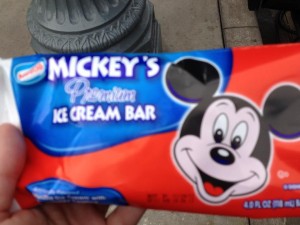 Once back at the boadwalk we headed for Big River Grill where B.A.L.D ( bloggers annual get together) takes place.
We said hello to loads of people, caught up with the yellow legend that is Mat Newman – which of course involved a Tim Tam Slam  and finally ate a real meal.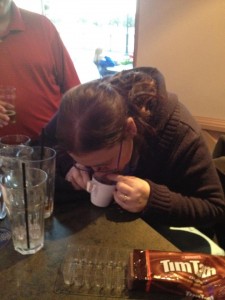 I caught up with some old friends and made some new ones – we have a great community. The usual plan after BALD is to head to the espn bar where the Turtle has a get together – due to much sport occuring they were not admitting anyone else, so we  headed over to a favourite haunt Kimonos.
Kevin had only just arrived and missed dinner & we finally caught up with Femke, so they had sushi – much more chat was had, catching up isn't a huge thing as we talk almost everyday on skype so the conversation turns to Lotusphere, Karaoke and software ( an ocasional reference to an iseries or power system may have occured too) 🙂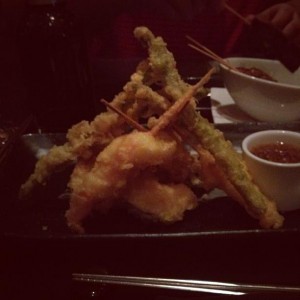 After Kimonos we wandered out to the dolphin lobby bar – chilled out on the sofas and chatted some more, all in all a good start to setting up a busy week